Site: Central DuPage Pastoral Counseling Center
About CDPCC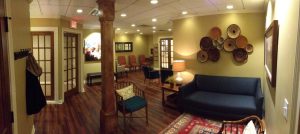 Central DuPage Pastoral Counseling Center (CDPCC) is a Christian, not-for-profit organization that provides affordable care. CDPCC is open to all who would use its services and finds its uniqueness in its theologically and psychologically trained staff. The strength of the CDPCC lies with its staff, who love its atmosphere and thrive in a collegial relationship of sharing faith, clinical expertise and wisdom. CDPCC has been a training site for practicum students since 1989 and values interns as respected, professional colleagues. Since its origin in 1976, the staff of CDPCC has co-partnered with over two dozen Catholic and Protestant churches to provide excellence in human services and influence the community in compassionate care of the whole person, mind, body and spirit. CDPCC is located in a diverse suburban community, 30 miles west of Chicago in DuPage County.
Clinical Opportunities
The CACTC doctoral intern who is completing his/her rotation at CDPCC will carry a caseload of 15-20 hours/week of direct contact with clients. Generally, the intern will work out of the CDPCC site in Carol Stream. Clinical experiences will include providing assessments, developing and facilitating groups, and providing therapy for children, adolescents, adults, couples, and families in an out-patient setting. Areas of clinical concern include, but not limited to, mood disorders such as depression, bipolar disorder and anxiety; adjustment disorders; OCD; PTSD; eating disorders; self-harm; loss (death, divorce, job), domestic conflict and abuse; ADHD and a variety of behavioral issues.
Interns have the opportunity to develop presentations and groups onsite or offsite at schools and churches. These off-site experiences will be tailored to the interests of the intern. For example, people interested in an older population may want to develop a caregiver support group or do a presentation on Alzheimer's.
Central DuPage Pastoral Counseling Center staff offer expertise in various treatment modalities including psychodynamic, cognitive, behavioral, existential, and Adlerian. The Center has a play therapy room and a provider who practices Theraplay. CDPCC's therapists have a variety of proficiencies including Somatic Experiencing (SE), attachment using Dynamic Attachment Re-patterning experience (DARe), Acceptance and Commitment Therapy (ACT), Internal Family Systems (IFS), Mindfulness, hypnosis, IMAGO Relationship Therapy, Emotion Focused Relationship Therapy, Eye Movement Desensitization Re-processing (EMDR), and Emmanuel Prayer. In addition, one therapist is fluent in American sign language.
All therapists are comfortable integrating spirituality into treatment, always beginning from the client's viewpoint. Education and conversation about the integration of spirituality into treatment are offered. Two therapists are certified in and provide spiritual direction.
Assessments
Central DuPage Pastoral Counseling Center is committed to purchasing digital assessment materials as we replace paper copies. Currently, students use two iPads for Q-interactive testing. Assessment opportunities address presenting issues related to: ADHD, learning concerns and disabilities, personality issues, emotional and behavioral concerns, suitability for religious life, ordination, and ministerial placements. CDPCC incorporates neuropsychological tests within their psychological assessments as appropriate to the referral question.
Supervision
Supervisors have various theoretical perspectives, including person-centered, psychodynamic, Adlerian, and cognitive-behavioral as well as expressive techniques. They respect the theoretical orientation of students yet encourage interns to study best practices and draw from a repertoire of skills from various modalities. In general, interns are encouraged to consider the systemic context of a client's life, provide empathy, and build on the client's strengths, resources and resiliency to heal or effect changes in the client's life. Live supervision is done by Interns bringing an audio or videotape of their work to their individual supervision time.
Supervision is valued at the Center. It includes three to four hours weekly: individual supervision for therapy work (1-2 hours), peer supervision with the staff (1 hour), individual supervision for diagnostic work (1 hour), group diagnostic supervision (1/month) and peer supervision with other students. In addition, the intern will have the opportunity to supervise practicum students and be supervised for that work. During the weekly peer supervision, time is allocated for presenting case studies and to consult with a psychiatrist. Given the whole staff is invested in the learning of our students, consultation with them or additional supervision is available as needed. Many of the staff will welcome an intern to do co-therapy with them.
Administration
An intern will have the opportunity to work with administrative staff regarding intakes, billing, budgeting, maintaining the Facebook page, and all the aspects of managing an out-patient practice. Working with the administrative staff is designed to be more of a learning experience than assuming the responsibilities of the current administrative staff.
Contact Central DuPage Pastoral Counseling Center
507A Thornhill Drive, Carol Stream IL 60188
Phone: 630.752.9750  |  Fax: 630.752.9768
cdpcc.org