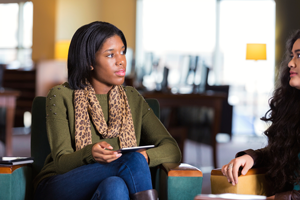 OUR MISSION
The mission of the Chicago Area Christian Training Consortium (CACTC) is to equip and prepare future psychologists to work competently with underserved persons and their communities through a distinctly Christian perspective. In the context of a multidisciplinary training consortium, a distinct and defined course of study is provided for interns in health service psychology. This training is focused on 9 profession-wide competencies and 2 program-specific competencies (Integration of Faith & Practice, Work with Underserved Populations).
Excellent training of psychology interns through:
Experience working with many different underserved persons in a variety of clinical settings (urban and suburban).
Exposure to various therapeutic modalities geared to address the specific challenges faced by underserved groups.
Exemplars in the profession who share their passion for this work through supervision, mentoring and professional development.
Enriched service provision through collaborative research projects geared towards cultivating enhanced perspectives in work with marginalized groups.
Extending this enriched perspective to foster a greater number of professionals to work competently with the underserved.
In all things, exemplifying Jesus Christ in work with these persons.
OUR OBJECTIVES
To develop intern's knowledge of APA ethical standards in the practice of psychology, and the demonstration of behavior consistent with these standards.
To assist interns in the acquisition of a broad range of scientific and clinical knowledge and skills in health service psychology, including the ability to approach cases with a holistic understanding of persons (biological, psychological, systemic, spiritual and social).
To facilitate intern's development of critical thinking skills regarding the interface between psychological and religious/spiritual dimensions of personhood from a distinctly Christian perspective, while also valuing a diverse range of religious perspectives in their work with clients.
To develop intern's capacity to both assess, and provide treatment to, a diverse range of persons, especially those who are traditionally underserved by mental health providers.
To develop intern's multicultural competence in work with a diverse spectrum of client populations and presenting problems.
To provide broad based clinical training in order to prepare interns for licensure as a health service psychologist.
Chicago Area Christian Training Consortium (CACTC)
Jessica Marshall, PsyD
CACTC Director
Psychologist/Supervisor and Director of Assessment Clinic, OCCC
Dr. Marshall is the CACTC Director, as well as a CACTC graduate. She has worked in a variety of clinical settings including a child guidance clinic, geriatric in-patient units, a university counseling center and a variety of outpatient community mental health settings. She provides assessment and consultation services for mission organizations and schools regarding a variety of mental health topics and oversees OCCC's Assessment Clinic. She has a passion for helping children get access to the resources they need through comprehensive psychological/educational assessments. In addition, she enjoys providing therapy to clients with ADHD, anxiety, depression, and complex trauma histories, particularly those in underserved communities. Dr. Marshall has a Masters degree in Theology and values the ability to integrate faith into her clinical work when appropriate.  (PsyD, Fuller Theological Seminary/Fuller Graduate School of Psychology)
Outreach Community Counseling Center (OCCC)
Alana Marquez Roth, PsyD
CACTC Assistant Director
Psychologist/Supervisor and Assistant Director of Assessment Clinic, OCCC
Adjunct Faculty, Wheaton College Graduate School

Dr. Roth is clinical psychologist who specializes in psychological assessment as well as therapy with children, adolescents, and their families. Dr. Roth has a leadership role within CACTC as she provides didactic training and program development to enhance the internship experience.  At OCCC, she conducts therapy and testing, trains and supervises doctoral practicum students and CACTC interns, and coordinates referrals for testing. She also works as an adjunct professor in the clinical psychology doctoral program at Wheaton College.  Dr. Roth has experience working in various clinical settings and previously taught and supervised in the PsyD program at Azusa Pacific University. (PsyD, Wheaton College)
Victor Antonio Argo, MA, LMFT
Program Director/Supervisor, OCCC
Mr. Argo has worked in community mental health for over 20 years, and specializes in work with ethnic diversity issues, domestic violence, family therapy and juveniles on probation. His clinical interests also include supervision and collaborative relationships with interns and providing couples therapy using the Emotionally Focused Couples Therapy approach. He provides the supervision for the live supervision team at OCCC, which includes the weekly supervision using the one-way mirror and reflecting team. (MA, Wheaton College)
Lawndale Christian Health Center (LCHC)
Casey Clardy, PhD, MDiv
Psychologist/Supervisor,
Director of Behavioral Health, LCHC
Dr. Clardy, a CACTC graduate, is a bilingual (Spanish) behavioral health provider at LCHC serving diverse adult, OB, and pediatric populations in the North and South Lawndale communities. As a community-based clinical psychologist, Dr. Clardy is dedicated to being a bridge builder among the worlds of psychology, faith, and culture in service of underserved populations. Her professional interests include multicultural competence, spiritual & religious coping, severe mental illness, motivational interviewing, clergy consultation, and psychological testing. As Director of Behavioral Health at LCHC, she enjoys supervising staff and consulting with other disciplines to equip LCHC to serve the complex behavioral health needs of the Lawndale population. (PhD, MDiv, Fuller Theological Seminary/Fuller Graduate School of Psychology)
Emely de la O, PsyD
Psychologist/Supervisor, Director of Clinical Training, LCHC
Dr. de la O is a bilingual behavioral health provider at Lawndale Christian Health Center. She currently works primarily at the main clinic at 3860 W. Ogden Avenue with the adult population. She has worked with children and adolescents at LCHC in the past, and has also co-facilitated psychoeducational groups for children and their parents. Dr. de la O also currently serves as the Behavioral Health Clinical Training Director, involved in the development of the training program at LCHC and providing training and supervision to students at the advanced practicum, pre-doctoral, and post-doctoral level. Dr. de la O is passionate about serving underserved communities and views her work at LCHC as ministry. (PsyD, Wheaton College)
Kathryn McLean, PsyD
Psychologist/Supervisor, Assistant Director of Behavioral Health, LCHC
Dr. McLean is a CACTC graduate and a behavioral health provider at LCHC. She provides behavioral health consultation services at two LCHC locations and works primarily with the OB/GYN care team. Dr. McLean also facilitates groups to promote social and emotional skills for children and adolescents in the context of primary care. As Assistant Director of BH, Dr. McLean manages the clinical quality improvement process related to behavioral health, and assists in increasing the utility of electronic medical records for behavioral health. She assists with programmatic decision-making for LCHC related to Medication Assisted Treatment for patients with opioid use disorder. (PsyD, Wheaton College)
Karla Torres Ferrer, PsyD
Psychologist/Supervisor, LCHC
Dr. Torres joined LCHC in 2007 as a primary care psychologist in their Ogden location. She is a bilingual behavioral health provider, working with a chronic underserved low SES population and collaborating with their physicians regarding their medical care and mental health needs as well as medication management. She is passionate about providing holistic care to a variety of clinical populations, particularly those with severe mental illness, personality disorders, and spiritual concerns.  Dr. Torres has also completed her post-doctoral MS in psychopharmacology through Farleigh Dickenson University in order to increase her ability to collaborate with physicians for patient psychotropic medication management and to do future work as Licensed Prescribing Psychologist. (PsyD, Wheaton College)
Rachel Suntay Zahn, PsyD
Psychologist/Supervisor, LCHC
Dr. Zahn joined LCHC in 2007; her interests have focused on working within medical settings. Dr. Zahn is passionate about the Behavioral Health Consultation (BHC) Model, which combines her love of medicine and psychology in treating the whole person. Dr. Zahn has provided behavioral health consultations at 3 of LCHC's clinics all servicing underserved populations. Alongside the medical team (including physicians, nurses, medical assistants, nutritionists, etc.), Dr. Zahn has worked specifically in OB/GYN, including high-risk pregnant women during pregnancy and postpartum. Another area of focus is in Pediatrics, treating children and adolescents (and their families), and establishing a Behavior Improvement Group (BIG) specific for a primary care setting. She piloted the use of telehealth video services, which is now being implemented clinic-wide for supervision and consultation. Dr. Zahn is also involved in the development of the training program at LCHC and in supervision of interns. (MS DePaul University; PsyD, Wheaton College)
Lisa Naatz, PsyD, ABSNP
Director of Clinical Training and Assistant Director of Neuropsychology, Meier Clinics
Adjunct Faculty/PsyD Program, Wheaton College Graduate School
Dr. Naatz is board certified in school neuropsychology and provides psychological and neuropsychological assessments for children and adolescents; her assessment specialty areas include autism spectrum, ADHD, and learning disabilities.  Dr. Naatz also works with adolescents and adults in therapy, primarily from a third-wave cognitive behavioral approach; her therapy specialty areas include trauma, anxiety, depression, and grief.  Additionally, she works as an adjunct professor at Wheaton College in the clinical psychology doctoral program.  (PsyD, University of San Francisco)
Bradley Kahle, PsyD
Psychologist/Supervisor and Clinical Executive Director, Meier Clinics
Dr. Kahle joined Meier Clinics in 1990 after gaining extensive experience working in an inpatient setting. He currently sees adolescents and adults in the Wheaton and Geneva clinics and is the director of Catalyst in Wheaton and Clinical Executive Director of Meier Clinics of Illinois. He uses various techniques including cognitive-behavioral therapy and insight oriented therapy. Dr. Kahle also provides psychological and ADHD testing. (PsyD, Forest Institute for Professional Psychology)
Benjamin Pyykkonen, PhD
Psychologist/Supervisor, Meier Clinics
PsyD. Program Director and Assistant Professor, Wheaton College Graduate School
Dr. Pyykkonen works with adolescents and adults, primarily from a cognitive-behavioral approach, and also provides psychological and neuropsychological testing at the Meier Clinic in Wheaton. Additionally, he is the director of the doctoral clinical psychology program at Wheaton College. He is actively engaged in academic research examining the cognitive and emotional factors related to a number of clinical conditions, which enhances the effectiveness of his clinical work. These include: dementia, hydrocephalus, depression, neurodevelopmental genetic disorders, HIV, and compulsive sexuality. (PhD, Illinois Institute of Technology)
Cornerstone Counseling Center of Chicago (CCCOC)
Rev. Peonita Harris, PsyD, LMFT, CSAT
Executive Director, Supervisor, CCCOC
Dr. Harris has many years of experience in working with conflicted couples recovering from infidelity and betrayal, survivors of sexual trauma, and working with couples and partners recovering from the impact of sexual addiction. She also has specialized training in couples therapy, mood dysregulation, trauma and spiritual integration. Dr. Harris' goal is to embrace the uniqueness of all individuals as she assists them to discover and experience healing and connection. She is committed to the movement of de-stigmatizing mental illness and to the integration of faith and practice. Dr. Harris is committed to providing a collaborative style of supervision to assist students and staff in providing quality psychotherapy services for an integrative approach to treatment. (PsyD, Adler University; LMFT, Adler University, CSAT, IITAP)
Frances Tung, PhD
Psychologist/Supervisor, CCCOC
Dr. Tung has experience working with children, adults, and families. She has special expertise assisting children with emotional and behavioral difficulties as well helping parents develop strong parenting skills. She also has training in EMDR. Dr. Tung regularly performs psychological evaluations of children and adults for ADHD, learning disabilities, and social and emotional issues. (PhD, Suffolk University in Massachusetts)
Jermaine Thomas, PsyD
Psychologist/Supervisor, CCCOC
Dr. Thomas specializes in working with individuals struggling with early relational trauma, depression, and couple issues. His treatment approach is integrative, as he incorporates perspectives from psychodynamic theory, emotion-focused therapy, the Gottman method, Adlerian therapy and cognitive-behavioral therapy. Dr. Thomas believes that our early experiences, particularly our early relational experiences, lay the foundation for how we view others, the world, and ourselves. He strives to help individuals recover from the pain of their past and he has a passion for working with individuals who seek to learn more about themselves, and desire to grow emotionally, relationally, and spiritually. Dr. Thomas is especially passionate about helping clients form a better relationship with God and fully experience His grace. His style of therapy is relational and clients can expect that he will explore their issues with them without judgment. It is his aim to create a safe space in which clients feel comfortable working through difficult private issues as he provides support along the road to healing.
(PsyD, Adler University).
Central DuPage Pastoral Counseling Center (CDPCC)
Nancy E. Cochran, PsyD
Psychologist/Supervisor, CDPCC
Dr. Cochran joined the Center in 2005; prior to this she taught adolescents with behavior and emotion challenges. She currently provides therapy to adults of all ages, couples families and adolescents. Dr. Cochran is passionate about helping couples achieve a "conscious relationship" with a focus on trust, communication, intimacy and healthy boundaries. She uses mindfulness-based cognitive behavioral therapy, acceptance and commitment therapy and Internal Family Systems therapy to help those struggling with depression, anxiety, obsessive-compulsive thinking, panic attacks, eating disorders, PTSD and self-esteem issues. (PsyD, The Adler School of Professional Psychology in Chicago)
Jim Natter, PsyD
Executive Director, Psychologist/Supervisor, CDPCC
Dr. Natter is the Center's Executive Director. He enjoys working with couples and families. He is trained in Immanuel Prayer through Alive & Well Ministries. He received a certificate of completion of a two-year community in spiritual direction. He is certified in clinical hypnosis with the American Society of Clinical Hypnosis. He was on staff with the Navigators for a dozen years discipling individuals and couples in New England. He spent twenty-four years in the Navy and retired in the rank of captain. (PsyD, Adler School of Professional Psychology in Chicago)
Patricia R. Francis, OP, PsyD, SEP
Director of Counseling Services, Psychologist/Supervisor, CDPCC
Dr. Francis is a licensed Clinical Psychologist and Director of Counseling Services at Central DuPage Pastoral Counseling Center. A Dominican Sister, Dr. Francis is interested in the integration of spirituality, physical health, and psychology to achieve healing, maintain wellness, and promote personal growth and life-giving relationships. Dr. Francis has a particular interest in trauma/PTSD, marital relationships, chronic pain, and mood disorders. Fluent in American Sign Language, Dr. Pat enjoys serving the Deaf Community as well as hearing clients. (PsyD, Illinois School of Professional Psychology)
Elissa McGovern, PsyD
Psychologist/Supervisor, CDPCC
Dr. Lier is particularly passionate about working with children, adolescents and emerging adults.  She offers clinical services to address depression, anxiety, relational distress, academic concerns, and behavioral issues.  She incorporates play therapy, CBT, and mindfulness techniques into her therapeutic work and also values the integration of faith into the therapy process. She conducts group work relating to social and academic skills, social-emotional development, behavioral management, and boundary setting.  Dr. Lier utilizes psychological assessments to supplement the work done in therapy and administers psychological and neuro-psychological testing to children and adults for a variety of issues including academic concerns, attention difficulties, learning disabilities, social/emotional concerns, and career aptitude concerns. (The Chicago School of Professional Psychology, PsyD)
"CACTC is committed to train up professional psychologists to uniquely serve their clients through a Christian perspective. By working with underserved populations, our interns are able to grow their individual competencies while also meeting the needs of our neighbors here in the Chicagoland area."