Site: Lawndale Christian Health Center
About Lawndale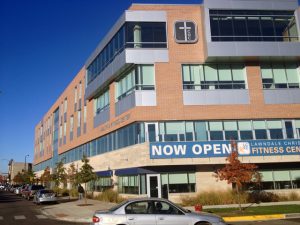 Lawndale Christian Health Center (LCHC) is a faith-based community health center on the west side of Chicago serving the North and South Lawndale and surrounding communities. The health center is a Federally Qualified Health Center (FQHC) providing primary care medical services to a primarily African-American and Latino population. LCHC serves over 63,000 patients, providing comprehensive pediatric and adult medicine; health support services including case management; and behavioral health services. The mission of LCHC is to show and share the love of Jesus by promoting wellness and providing access to quality, affordable healthcare services. As a patient centered medical home, Lawndale patients are invited to participate in their care directly at LCHC.
The clinic was founded in 1984 through the efforts of local residents and members of the Lawndale Community Church who sought to address the stark health disparities in these medically underserved neighborhoods. The main clinic campus is located on Ogden Avenue, a main city thoroughfare, with the founding church right across the street. Originally a Cadillac dealership in the 1970's, the main clinic has undergone major renovation over the years and currently houses over 30 exam rooms, laboratory, radiology, and ENT services. LCHC has expanded to six clinics across North and South Lawndale, in the Garfield Park, Little Village, Archer Heights, and Homan Square neighborhoods. The main clinic is accessible via the CTA (train and bus).
Spread across all clinic locations, the Behavioral Health Department serves patients of all ages by seeking to address behavioral health needs in primary care, including: mental health concerns (e.g. depression, anxiety, post-partum adjustment, relational issues, medication-assisted treatment for opioid use disorder); coping with chronic illness; managing life stressors (e.g. poverty, immigration status, community violence, trauma); behavioral change (e.g. weight loss, smoking cessation, medication compliance), and lifestyle change (e.g. physical activity, parenting skills). Consistent with the Primary Care Behavioral Health Consultation model, Behavioral Health Providers are integrated into multidisciplinary health care teams and conduct same-day consults with patients referred by their providers. Initial visits last 30 minutes and follow-up visits last 15-20 minutes. Behavioral Health groups are also available to patients, including stress management groups for adults, coping skills groups for children and adolescents, behavior management groups for young children and their parents, and MAT groups for opioid use. The department has also launched BH Therapy services to meet the need for therapy referrals for LCHC patients. The Behavioral Health Department consists of licensed clinical psychologists, licensed clinical professional counselors, and trainees at the masters- and doctoral level (practicum students, doctoral interns, postdoctoral residents, master's level residents), and invites licensed staff and trainees of all levels to participate in the mission of LCHC.
Clinical Assignments/Caseloads
Interns completing their primary rotation at LCHC will be trained in the Behavioral Health Consultant model (BHC), a psychological approach to population-based clinical health care that is simultaneously co-located, collaborative, and integrated within the primary care clinic. In this model, the intern will grow in their ability to efficiently diagnose and screen for psychological disorders through a biopsychosocial-spiritual lens, design strength-based behavior change plans, consult in real-time with multidisciplinary team members, and assist medical providers in utilizing pharmacological treatment effectively. Trainees gain experience in utilizing brief screening measures (PHQ-9, GAD-7, Edinburgh Postnatal Depression Scale, Geriatric Depression Scale, Pediatric Symptom Checklist, Vanderbilt ADHD, PTSD Checklist for DSM-5) and assessment (MCMI, Millon Behavioral Medicine Diagnostic, Woodcock Johnson) tools to inform diagnosis and treatment recommendations for PCPs. Standardized screening and outcome-based assessment measures are used to assist interns in their ability to arrive at DSM-5 diagnoses for patients. Interns may also have the opportunity to provide BH Therapy to LCHC patients referred by BH providers. Additionally, interns may gain experience with MAT consults and groups, Senior Services (caregiver support group, brief consults and assessments), and collaboration with LCHC psychiatrists as opportunities become available. Typical evidenced-based interventions that are used in primary care behavioral health consultation include Acceptance & Commitment Therapy (ACT), Cognitive Behavioral Therapy (CBT), and motivational interviewing. In addition, trainees also have the opportunity to co-facilitate weekly psychoeducational groups either for children or adults. When possible, LCHC provides opportunities for interns to supervise BA, MA level trainees, or doctoral level practicum students at varying levels of commitment and capacities over research, program development, and clinical activities. Given LCHC's developmental model of supervision, intern responsibilities will increase as the year progresses, beginning with intensive training and supervision in the BHC model, orientation to working alongside medical providers, and training in pharmacological treatment. Interns work as a care team member alongside their licensed clinical supervisor and the medical providers, nurses, and care managers. A typical week will include behavioral health consultations, psychoeducational groups, supervision and didactics, and brief testing batteries and program/clinical development depending on clinic need. Supervision is provided through formal group and individual supervision, as well as "shadowing" live on the clinic floor during patient consults for in-vivo supervision.
Contact Lawndale Christian Health Center
3860 W Ogden Ave, Chicago, IL 60623
Phone: 872.588.3000  |  Fax: 872.588.3001
www.lawndale.org